WELCOME TO THE
MFIT CHALLENGE
By joining us, you'll receive coaching, effective products, a supportive community, recognition, and real progress towards a healthier you. The MFIT Challenge is your starting point to take control and make positive health decisions on your journey to overall well-being. Plus it's fun!

2023 DUO CHALLENGE
August 28 - October 24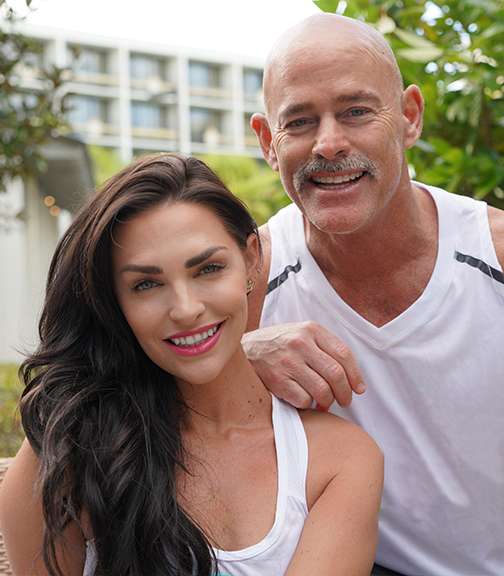 Hi,
Let's get you feeling and great!
If you're like most of our clients, you've tried to become healthier, lose weight, or get fit time and time again. What will make this time any different?

This time you have the support of a group of people who have not only been there, but they have come out slimmer, stronger, and with a healthy lifestyle as well! This community knows how to help you through the tough temptations and will empower you to achieve your goals.

Kristi and I are professional models, athletes, health advocates, and personal trainers. Whatever your focus, we will teach you the mindset and skills you need to accomplish become . After helping thousands of individuals transform their lives, we know what works and now it's your turn!
OWEN MCKIBBIN
MFIT Coach, 17-Time Me's Health Cover Model, Celebrity Personal Trainer, Health and Fitness Expert
KRISTY KAMINSKI-MILLS
MFIT Coach, Former FORD Model, Personal Trainer, Fitness Competitor, Health Expert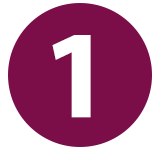 IT'S A PROVEN SYSTEM
The MFIT Challenge focuses on core principles of health.
You'll know exactly what to do to transform your body.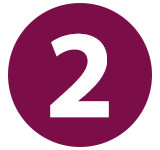 PRODUCTS THAT MAKE IT EASY
KANNAWAYS's world class products are designed
to increase overall health and support dramatic fat loss.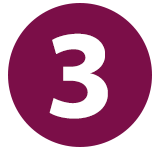 PROFESSIONAL COACHING & COMMUNITY
You'll enjoy weekly live trainings from Celebrity coaches and
the BEST online community.
The MFIT Challenge follows the 5 pillars of health. Focus on them every day and watch your transformation take shape! Then join the community to help you with your transformation.
1
SUPPLEMENT with high quality nutrition
2
HYDRATE with healthy beverages
3
FUEL with convenient balanced meals
4
MOVE with Owen and Kristy
5
SLEEP and recover every day
Joining the MFIT Challenge is as simple as it will be to embrace your new lifestyle of healthy choices. The Duo Challenge is designed for teams of two - you and a buddy! However, this is not a requirement to join. Individuals are encouraged to join the challenge as well!
Take your "Before" pictures following the guidelines (see photo guidelines)



Take your before weight and before waist measurement





Click on the MFIT Registration Link below




Visit the MFIT Challenge Facebook Group and join the community



Order your Fat Loss & Fitness Pack and set up your SmartShip




Our Fat Loss & Fitness Packs feature the best products for achieving life-long health and for shifting your body into fat-burning mode to maximize your Challenge experience. We recommend starting with the Fat Loss & Fitness Plus Pack. Be sure to add to add a pack to your SmartShip so you don't run out of your products mid Challenge.
Fat Loss & Fitness Pack
$233.95
122 BV
WHOLESALE PRICE $179.95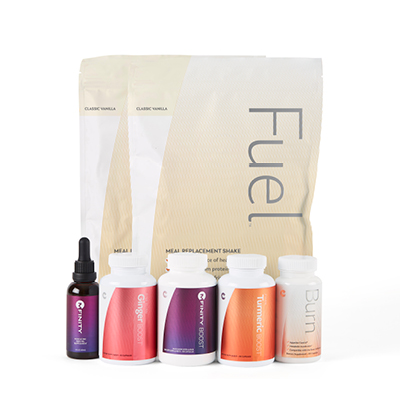 Fat Loss & Fitness Plus Pack
$389.95
226 BV
WHOLESALE PRICE $299.95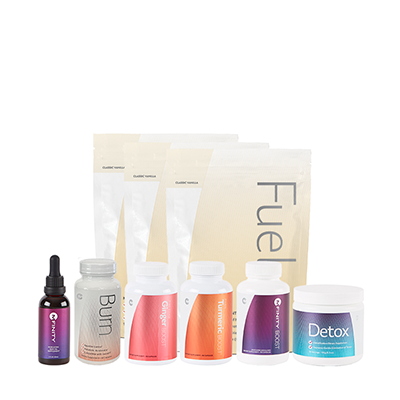 Fat Loss & Fitness Pro Pack
$493.95
275 BV
WHOLESALE PRICE $379.95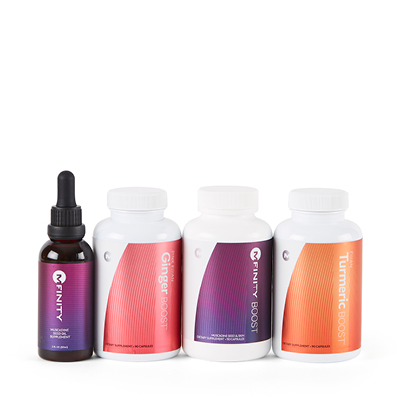 Core Pack
$220.95
149 BV
WHOLESALE PRICE $169.95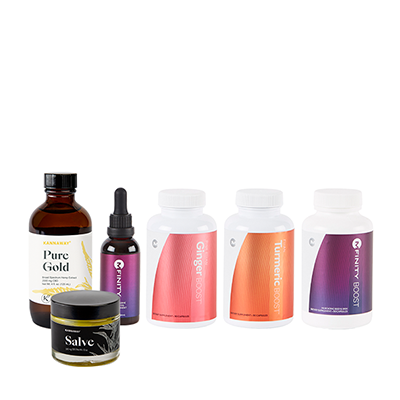 Starter Value Pack
$299.95
180 BV
WHOLESALE PRICE $299.95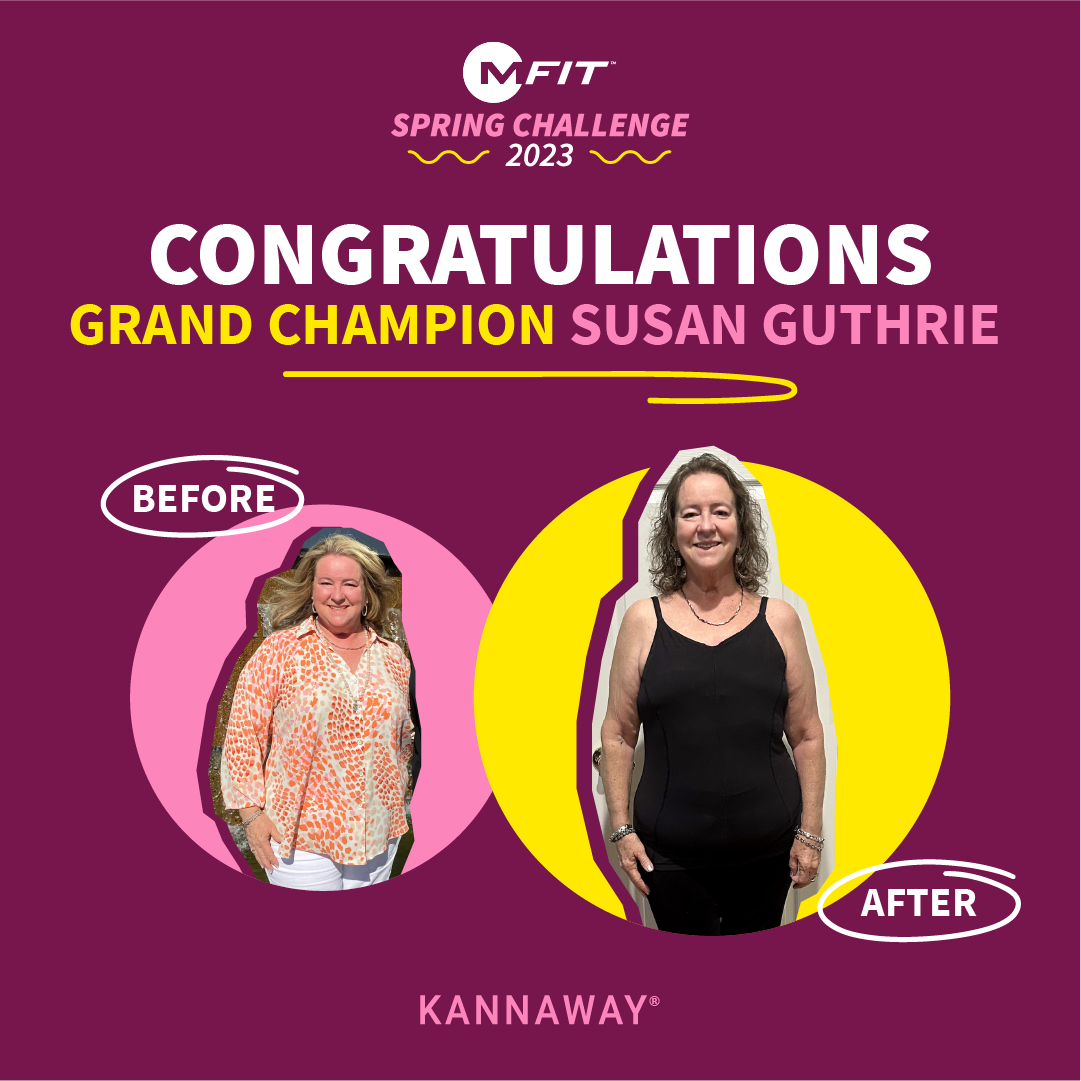 "The MFit challenge helped me stay on track and I am now down 73 pounds in one year. I love all of the Mfinity products and use them every day. The Boost, Burn, Turmeric, Ginger and Java are my go-to every morning. I love the simplicity and quality of the products. Thank you Kannaway!"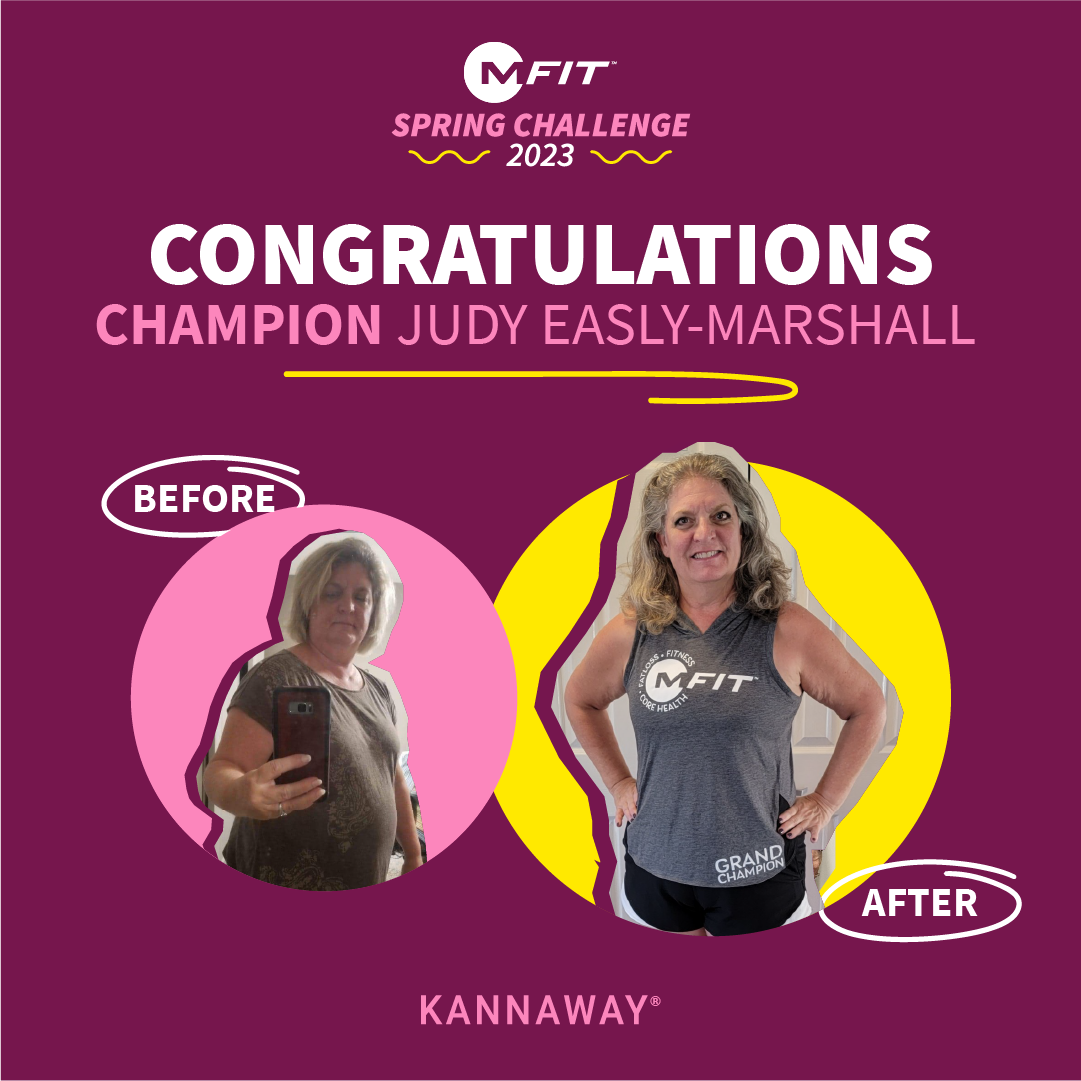 "Mfit is what gave me balance and stability – it gave me a mind, body, spirit balance I desperately needed. I know without a doubt that God led me to Mfit to find that ONE thing that kept me focused, balanced, and grounded during one of the most difficult times of my entire life."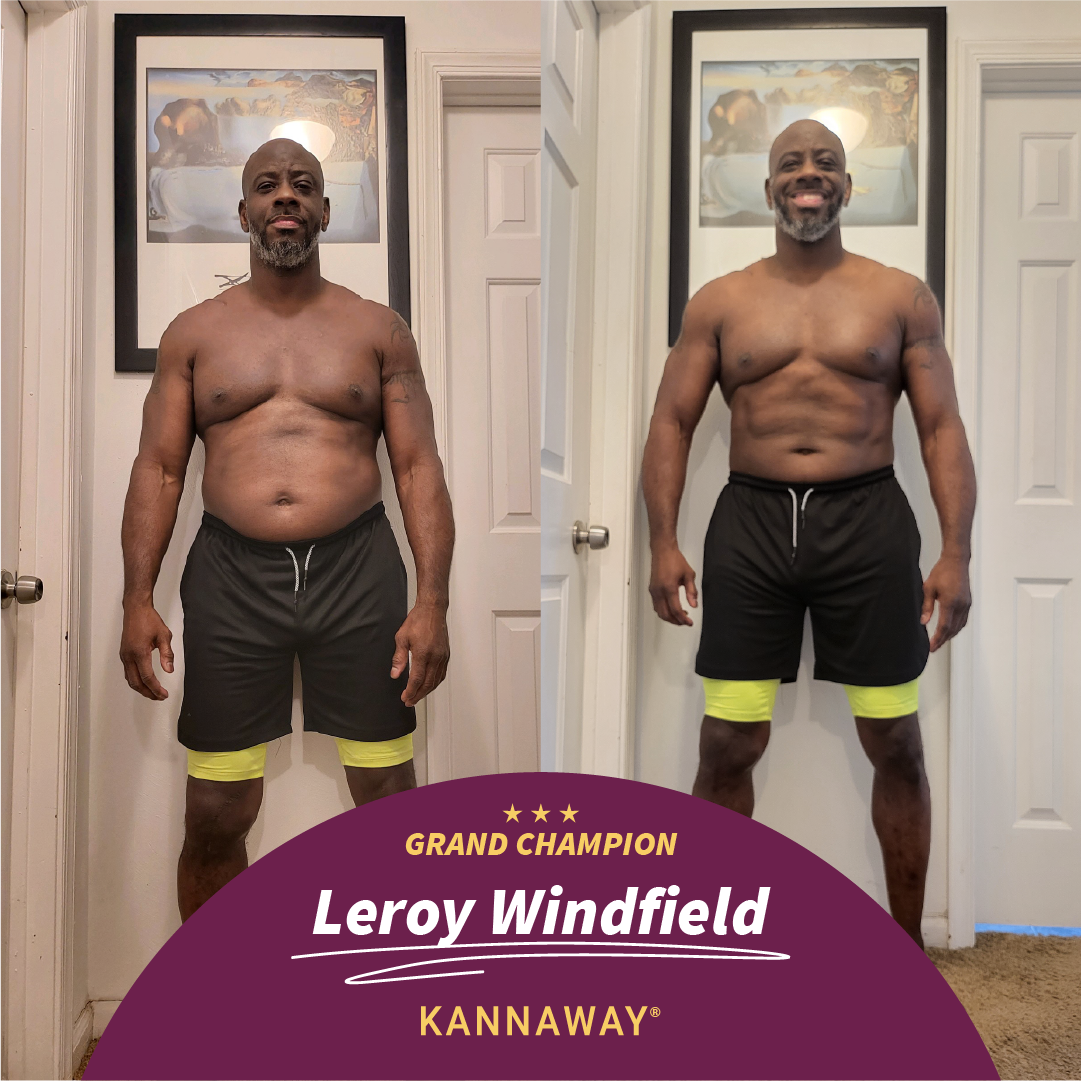 Total Loss = 12 lbs
Total Inches = 5"

---
"This challenge was difficult due to an injury. But I persevered and our MFIT products significantly helped me overcome these challenges."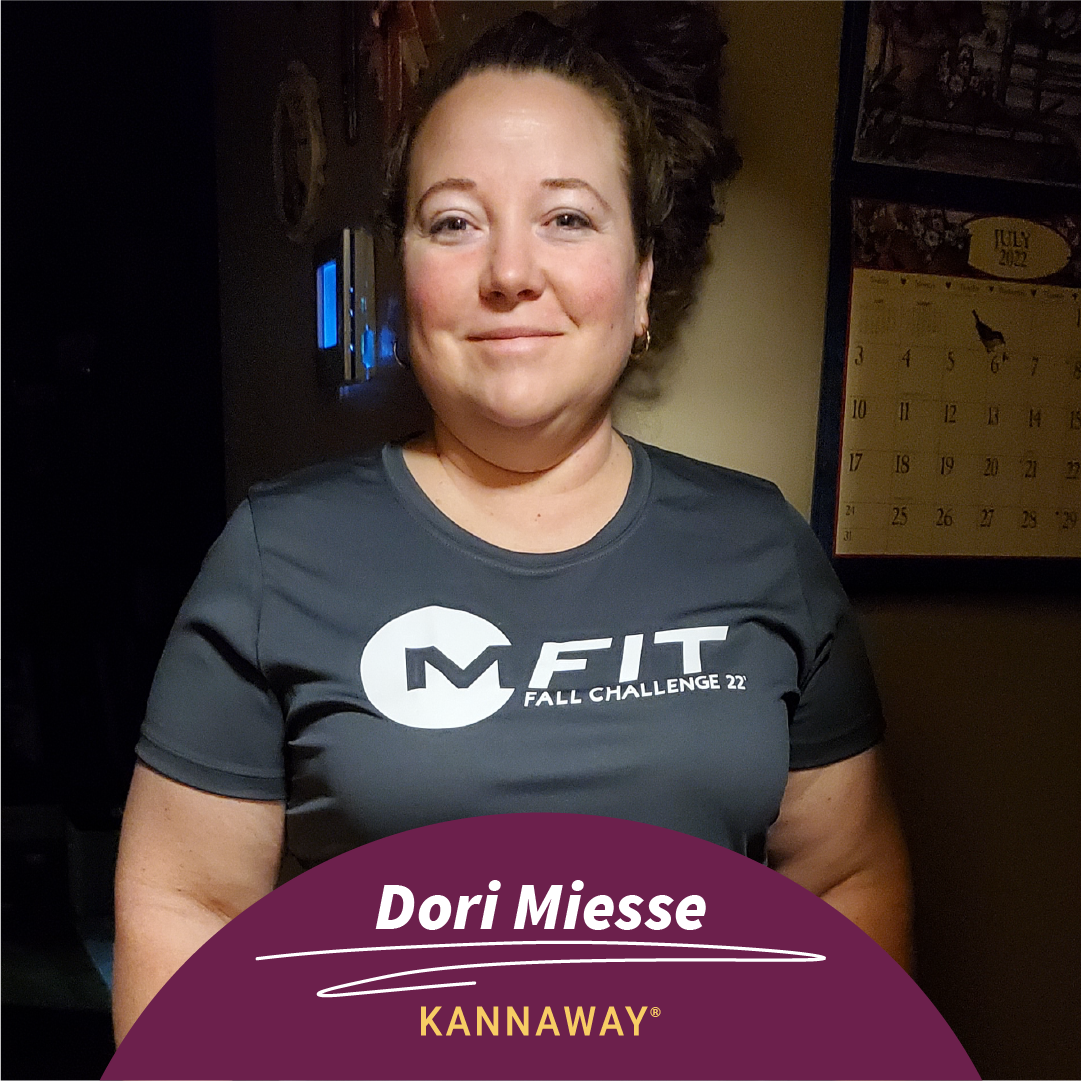 Total Loss = 11 lbs
Total Inches = 2"

---
"I have been struggling since June. I know only hard work will get me there. I stick to keto and take all my MFIT supplements too."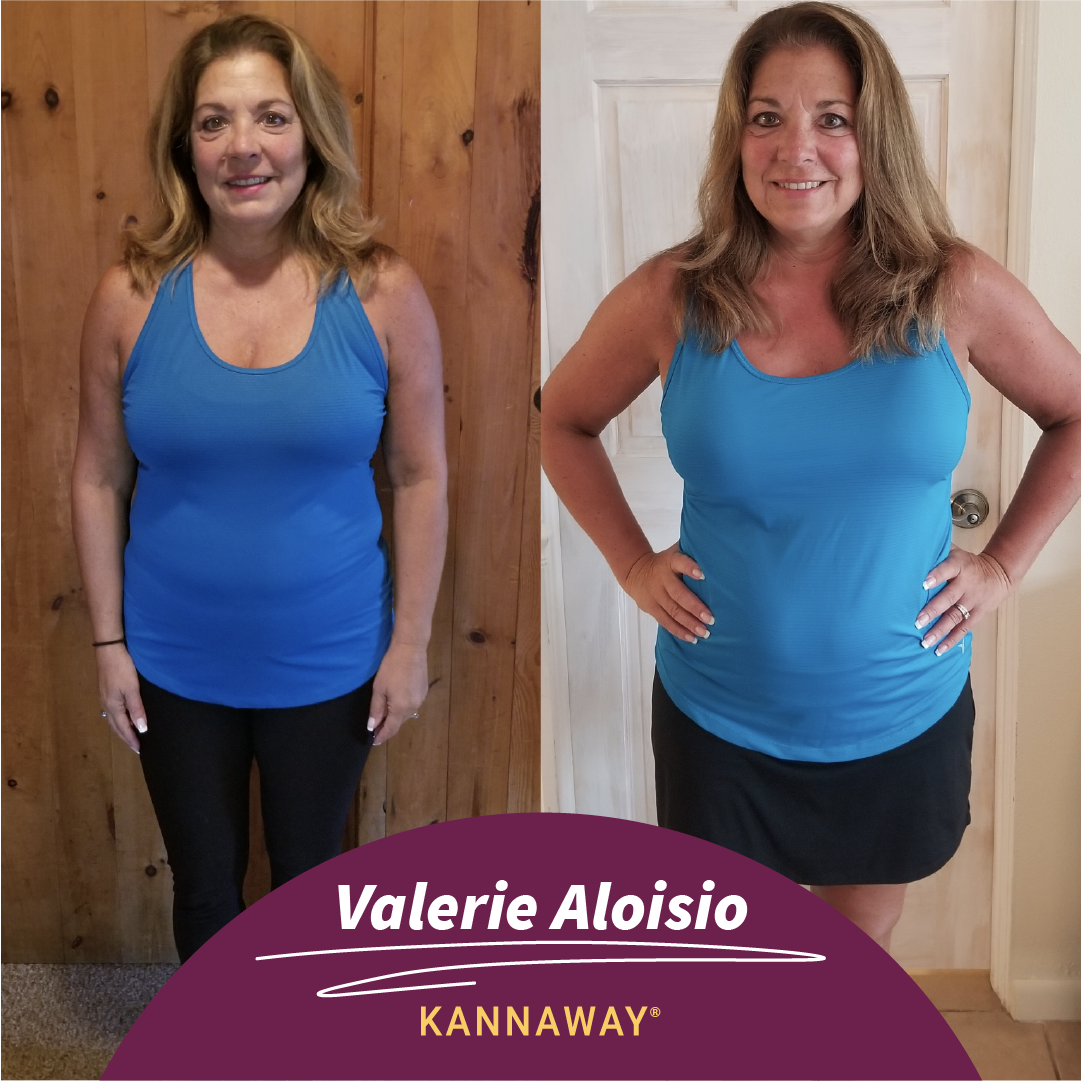 Total Loss = 5 lbs
Total Inches = 2"

---
"Enjoyed learning from the coaches and others who shared. Was motivated to get my 10K steps in daily. Loved adding all the products to my daily Cannabinoid intake."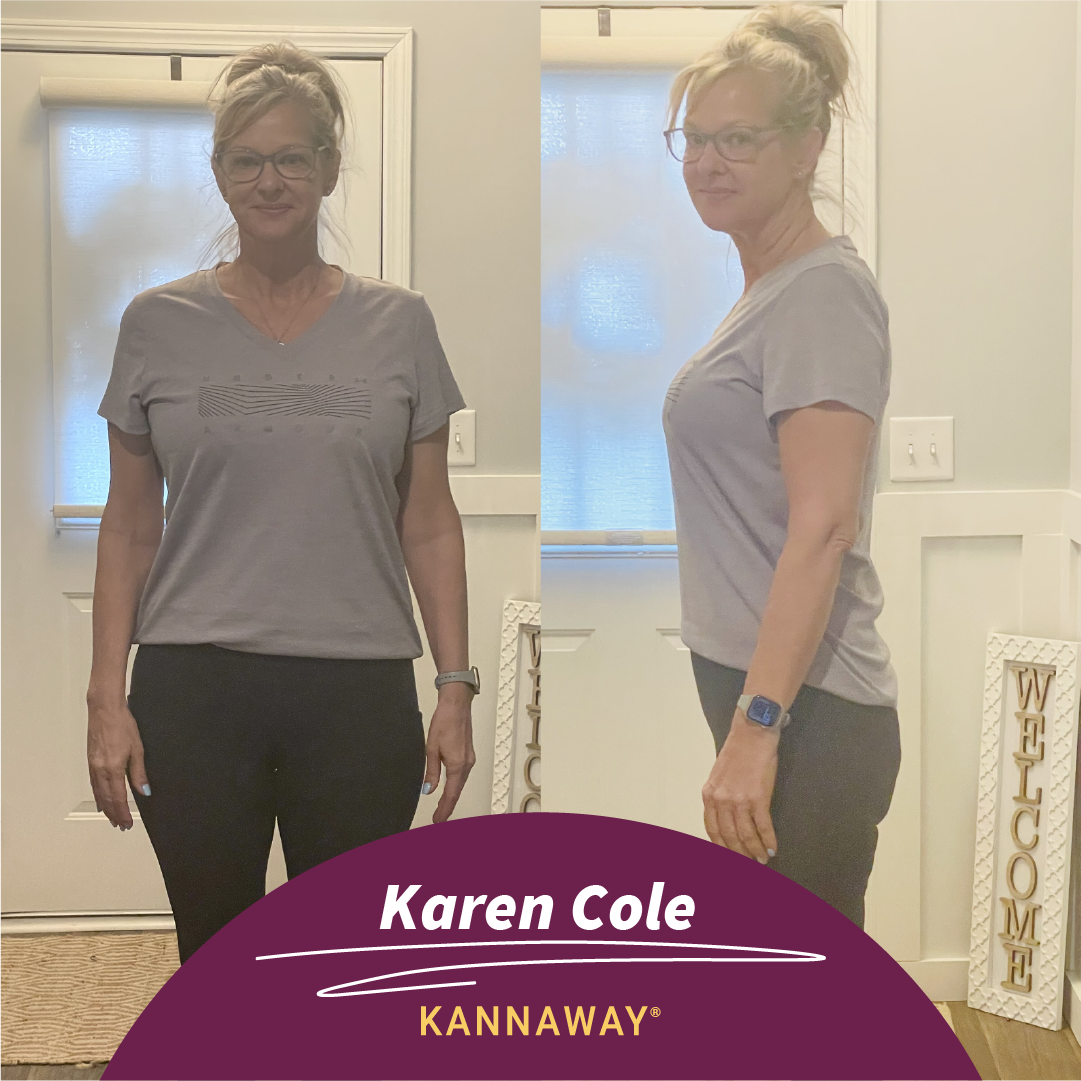 Total Loss = 12 lbs
Total Inches = 5"

---
"Met my goal and will continue to stay focused and maintain."
CHALLENGE FAQ'S AND RULES



The MFIT The MFIT Challenge is open to Kannaway Independent Brand Ambassador and customers. Employees of MFINITY, as well as the immediate family (e.g., spouse, parents, siblings and children in the same household) and household members of each such person are not eligible to win. The Contest is subject to all applicable federal, state and local laws and regulations and is void where prohibited by law.


The MFIT Challenge is open to Kannaway Brand Ambassador and Customers. Employees of Kannaway, as well as the immediate family (e.g., spouse, parents, siblings and children in the same household) and household members of each such person are not eligible to win. The Challenge is subject to all applicable federal, state and local laws and regulations and is void where prohibited by law.
Participants must register to participate in the Challenge. Registrants may receive periodic emails/text messages with helpful information and are encouraged to participate on the Kannaway MFIT Facebook Group as that is where the training by our coaches and community takes place. By registering, participants agree to allow Kannaway to use their name, stated goal and submission information (including weight lost and photo) for communication and marketing purposes.
This is an opportunity for you to team up with your bestie for that extra support. Together you can achieve more! When you join as a Duo team you will have the opportunity to be selected as one of our individual Champions and/or as one of our Duo Champion. Participants are not required to participate in the Duo Challenge.
You will receive an email every Sunday with a survey to help you identify your activities throughout the previous week, your progress and share any insights you might have experienced the prior week. You will receive individual points for your responses, as well as Duo Team Points (if you are participating on a Duo Team) when you compete the form within 3 days. Check-ins submitted after 3 days will receive 50% of the point value.
MFIT Duo Check-in Form
All Participants must only use Kannaway products and may not use any competitive products or undergo any medical weight loss procedures. We recommend that you purchase the Fat Loss & Fitness Pack each month to experience the maximum benefits. However, you are free to make your own product selections. An average of $80 of Kannaway products must be purchased each month while participating in the Challenge. Product points will be applied at the close of the month.
The MFIT Challenge supports eating low carb meals outside of the meal replacement shake for best results. However, each participate may choose what foods they eat for their snacks/meals. Low carb recipes and other nutritional information will be shared on the MFIT Challenge Facebook.
The MFIT Challenge supports the 5 pillars of good health as stated above. While we highly encourage exercise of any kind, it is not a requirement to participate. The MFIT Coaches are there to provide movements suggestions no matter what level you are currently at.
At the end of the Challenge you will receive a link to post your final Submission form to share your results. This form must be completed by the participant within 3 days of the close of the Challenge. As part of this form, the participant will enter their weight loss, after photos, and feedback about their experience. Participants must submit this form to be included in MFIT recognition or to receive awards/prizes. We encourage ALL participants to complete the Submission form even if they feel they didn't do well in the Challenge. This information will be help to you as you continue on to additional Challenges.
Your health! The Challenge provides the structure and the support of a community to help you a achieve your health and weight loss goals. However, what fun is a Challenge without some prizes!
Individual Weekly Challenge: we will select one winner each week from the weekly check-ins to receive a $25 product credit (issued at the end of the Challenge).
Duo Team Weekly Challenge: the team with the most points each week will be spotlighted on the next MFIT LIVE call. Each member participating on the call will receive a $25 product coupon and 25 bonus to be used at the end of the challenge towards future product orders plus 25 bonus points. In the case of a tie, a random drawing will take place to select the winner for the week.
Champions: Individual members who achieve a minimum of 400 points* and attend the November Kannaway Recognition Event in Las Vegas will be recognized and receive a recognition medal.
Gold Champions: will be selected out of those individuals who achieve Champion. Gold Champions will receive a $150 Product Credit, MFIT Duo Champion T-shirt and a Gold recognition medal.
Duo Team Champions—Will be selected from Duo Teams were both participants have achieved Champion and the together have a minimum of 100 Duo Team Points. Due Team Champions will each receive a $150 product credit, Duo Team Champion Shirt and recognition medal.
Grand Champion: one Grand Champion will be selected at the end of the Challenge based on their total points and final submission. Grand Champions will receive a $250 Product Credit, MFIT Champion T-Shirt, and Grand Champion Medal.

* Prizes and recognition subject to change based on availability and event attendance.
Submissions are evaluated by a Kannaway judging panel that include our Head Coaches. Champions and Grand Champion will be chosen based on Challenge participation online, overall transformation, before and after photos, and description of their experience.
Recognition is presented online via the MFIT Blog, MFIT Facebook Group, and MFIT Live Broadcasts. Champions and the Grand Champion prizes will be shipped to them unless there is a Kannaway event within the next 45 days. Prizes received are non-transferable and have no redeemable cash value. Overall Grand Champions will be awarded at the Annual Kannaway Convention.
Always consult your physician before beginning any weight loss or exercise program. Consult with your healthcare professional to design an appropriate exercise prescription. If you experience any pain or difficulty with exercises, stop and consult your healthcare provider. If you experience any symptoms of weakness, unsteadiness, lightheadedness or dizziness, chest pain or pressure, nausea, or shortness of breath, seek medical help. Mild soreness after exercise may be experienced after beginning a new exercise regimen. Contact your physician if the soreness does not improve after 2-3 days. Kannaway cannot be held responsible for medical conditions, injuries, sickness, or any other health problem incurred during the MFIT Challenge.